What are Reusable Nappies
Reusable nappies are washable nappies that can be used again and again. They consist of an absorbent layer, a waterproof layer and an optional biodegradable or washable liner. Modern designs make using, washing and drying easy. There are three main types of reusable nappies: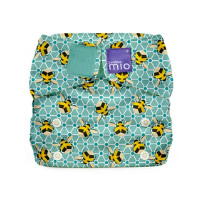 Reusable nappies are made up of either cotton, bamboo, hemp or microfibre. Hemp and bamboo are the most absorbent materials but take longer to dry. Cotton is very versatile for both absorbency and drying. Microfibre, being synthetic, dries the quickest but not as absorbent in comparison to hemp, bamboo and cotton. 

Flat Nappies include terries, muslins and prefolds, which are usually cotton. Flat nappies will need some folding and are a two part system so need a waterproof wrap. No pins are needed if you use a nappy nippa or fitted waterproof wrap. Flat nappies are good for day and night-time use. They can also be used in other nappy systems to boost the nappy for absorbency.
Prefolds are popular and the 'newborn fold' is a good fold for runny poo containment. When your baby gets older the prefold can be folded in a different way – boy fold (maximum absorbency at the front) and girl fold (maximum absorbency in the middle) – making them a versatile​ and economical nappy choice.
Cost: around £1 – £3 per nappy.
Shaped nappies are fitted nappies with soft, elasticated legs and waist. They are a two-part system which means that all shaped nappies need a waterproof wrap to cover the nappy. Shaped nappies are made of breathable cotton, bamboo or other natural material and do not require folding. They usually come sized going by your baby's weight and are particularly good for night-time. Depening by brand, shaped nappy sizes are usually Size 1: 6lbs – 18lbs, and Size 2: 9lbs – 35lbs. 
Cost: around £11 each.
A waterproof wrap is worn over flat or shaped nappies. They are machine-washable and come either sized depending on your baby's weight or one size (birth-to-potty), adjusting by poppers as your baby grows. Waterproof wraps are durable, breathable and dry quickly. They usually contain Polyurethane Laminate (PUL), but there are also plastic-free wraps made of wool.
Our recommendation is one waterproof wrap to every three shaped or flat nappies. This is because wraps made of PUL can be reused more than once by wiping with a wet cloth or rinsing and then leaving to dry before reusing. 
Cost: from around £8.
All-in-one nappies are just as easy to put on as a disposable nappy and are a popular daytime nappy. All-in-one's consist of a built in waterproof layer with an absorbent insert attached on the inside. Some nappies allow the insert to be snapped in and out, or have a sewn pocket for the insert to go inside, these are called pocket nappies. All-in-one and pocket nappies are usually one-size (birth-to-potty) fitting a baby from 8lbs – 35lbs by adjusting the poppers at the front. 
Cost: from around £14 each. Extra absorbent inserts around £2.
Disposable bio-degradable paper liners or washable fleece liners can be placed inside any nappy to catch solids and prevent overstaining. When changing a nappy, simply remove the liner throwing away disposable liners in the waste bin. Do not flush disposable liners. Washable liners can be placed in a bucket or wet bag with used reusable nappies. Some paper liners, if only wet and not soiled, can even be washed and used again. 
Cost: Biodegradable liners cost around £3 for 100 sheets, and washable liners from around £3 for a pack of 5.
Boosters are great for increasing the absorbency of a reusable nappy. They are made of natural materials such as bamboo and hemp, which are the most absorbent material. Boosters are particularly good for a night-time nappy system, or if you have a heavy wetter.
Cost: around £8 for a pack of five boosters.
Used nappies can either be stored in a bucket (any bucket with a lid will do) or a wet bag, which is sold by most nappy suppliers and manufacturers. Wet bags are also essential if you are using reusable nappies out and about or on holiday.
Cost: around £12 for a branded nappy bucket. 
Reusable wet wipes are a great plastic-free alternative to single-use wet wipes. A pack of wipes could be made of bamboo or cotton, making them very absorbent. All that is needed is to simply wet the wipe with water, use it and then put in the wash with used reusable nappies. Click here for our blog on how to make your own reusable wipes and reduce the cost even further!
FREE REUSABLE NAPPY VOUCHER
APPLY FOR A FREE VOUCHER WORTH UP TO £54.15
If you are a parent with a baby under 18 months, or a parent-to-be, living in the voucher participating London Boroughs of Bexley, Camden, Enfield, Hackney, Haringey, Islington, Lambeth or Waltham Forest, then you are eligible to apply for a free reusable nappy voucher worth up to £54.15 to help with the initial cost of buying reusable nappies, OR to contribute to a paid-for washable nappy laundry service.
Reusable nappies will save you waste, save you money, and are very easy to use. On our Get Started page, we offer tips for what you need to get started, how to wash and dry reusable nappies, and where to you can buy.
We have created a list below to help you figure out exactly what you need to get started with reusable nappies.