The London Borough of Bexley works with Real Nappies for London by offering residents a £50 voucher to encourage the use of real nappies, with the aim of decreasing the amount of nappy waste that is disposed of in the borough every year.  The voucher can be used to try different types of real nappies to help you choose the nappies which work best for you.
More information is available at two monthly Nappuccino sessions where you can come and see real nappies and talk to parents who use them:
On the last Wednesday of every month @ Danson Children's Centre, DA7 4EZ – 10.00 am to 12 noon
Upcoming Nappy Events
You can attend events happening in other boroughs too!
Apr
23
Mon
Real Nappy Week 2018
Apr 23 @ 12:00 am – Apr 29 @ 12:00 pm
It's Real Nappy Week 2018! Let's #MakeClothMainstream #RNW2018
Every year in April, the reusable nappy industry celebrates Real Nappy Week. This year it will be happen across the UK from Monday 23rd April to Sunday 29th April 2018. It's all about raising awareness of the benefits reusable nappies has on:
Our environment – by using reusable nappies, parents will reduce 8 million single-use plastic nappies ending up in landfill and incineration a day in England.
Your pocket – save up to £1,000 by switching to reusable nappies.
Your baby – breathable soft natural fabrics, which are comfortable and gentle on your baby's skin.
Take a friend along to a local real nappy demo (nappuccino) or real nappy event; volunteer with a cloth nappy library or network; share stories and pictures on Facebook, Twitter and Instagram of why you made the switch to reusable nappies. The more parents hear about modern reusable nappies, the more likely we'll #MakeClothMainstream.
This Real Nappy Week we'll be relaunching our #SwitchForSix campaign. #SwitchForSix encourages parents to make a step to giving reusable nappies a go in their nappy routine for six weeks. Parents will learn what is needed to get started, how to use, wash and dry real nappies. We're asking parents to register now to start at the same time as other parents on Monday 23rd April 2018.
Real Nappies for London provides up-to-date impartial information about reusable nappies. Working alongside local authorites we help parents try reusable nappies by offering a financial incentive. Find out more about our London real nappy vouchers, and get started with using reusable nappies today!
Apr
25
Wed
Bexley – Real Nappy Info & Give and Take

@ Danson's Children Centre, Brampton Rd, Bexleyheath DA7 4EZ
Apr 25 @ 10:00 am – 12:00 pm
Real nappy and children clothes Give and Take morning at Danson Children's Centre to celebrate Real Nappy Week. From 10am to 12noon. We will be promoting the real nappy library as well as textile recycling and holding a big swap area for baby/child clothes and bits. Anything left over will be donated to charity. Come and rummage! For more information visit the Kent Nappy Guru's Facebook page: https://www.facebook.com/kentnappyguru
Bexley Nappuccino Morning

@ Danson Children Centre, Brampton Rd DA7 4SN
Apr 25 @ 10:00 am – 12:00 pm
For more information about Real Nappies and to collect your £50 voucher, come to one of our Nappuccino mornings held on the last Wednesday of every month.
The nappy demonstration will take place at 10.15am.
Limited parking is available at the Children's Centre.Please note: To be eligible for a voucher you must complete a Real Nappy Voucher Application Form and provide a copy of your proof of address and proof of maternity or birth.
Apr
26
Thu
Real Nappies for London Breakfast Briefing

@ Camden Town Hall, WC1H 9JE
Apr 26 @ 8:30 am – 11:00 am
This briefing will look at incentive schemes, such as RNfL, and how they can play a vital role in helping to achieve Local Authority waste reduction targets, develop environmental and social values, which can be mutually beneficial to borough residents and Local Authorities.
You will have a unique opportunity to discuss the latest academic research findings (published) from Real Nappies for London, as well as hearing from guest speakers including Charles Warner (researcher, University of Northampton), Local Green Points and UK cloth nappy manufacturer Bambino Mio, on issues such as waste prevention, cost savings, social cohesion and stimulating the market for real nappy usage.
…for more information: www.realnappiesforlondon.org.uk/breakfast-briefing. Please register your attendance via Eventbrite
Couchorama: The Diaper Dilemma – WEN Film Screening

@ Close-up Cinema
Apr 26 @ 6:00 pm – 8:30 pm
In France, 2.5 billion of used diapers must be disposed ever year. An example of the cost to the environment and to families for having a child. Is the change from disposable back to reusable cloth diapers a return to the past or a wise choice in sustainable habits? What are other countries doing about this problem? Drawing on interviews with researchers, industrialists, consumers and feminists, the film seeks to answer questions about an emancipatory product of today's consumer culture.
WEN Film Club present Couchorama – The Diaper Dilemma. Tickets: General Admission £10, Concessions £7 and Members £5. Booking essentail via Eventbrite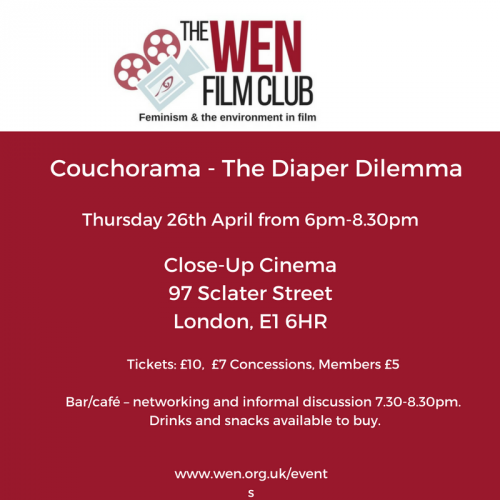 Bexley Real Nappy Network (BRNN)
BRNN is a support group who promote real nappies and provide information and help for parents who wish to use cloth nappies.
Early Pregnancy Evenings
Queen Elizabeth's Hospital – Woolwich
Information evening with stalls and a tour of the hospital.   Third Wednesday of the month from 7pm – 8.30pm.
Darenth Valley – Dartford
Presentation as part of the 'caring for your baby' course. Occurs on the 2nd Saturday of the month from 10am – 12 noon. Booking is required via the hospital.
Claim your real nappy voucher